Her Dark Heaven
with Nick Cocks
Fri
July 1
@ 7:00 PM
( Doors:

6:30 pm

)
Heaven Can Wait
Ages 21 and Up
Additional Info
Her Dark Heaven
Her Dark Heaven is a musical project created by singer, bass player, and front person Jack Doyle. The current lineup includes Camilo Sanchez Lobo, a death metal guitarist from Bolivia, and Aaron Giovanetti, a metal and hardcore drummer from New York City. The band's most recent EP "Poor Luck" was created with the help of Taiwanese experimental music producer Howard Ouyang, and Ilana DiMarco, the band's former drummer. "Poor Luck" is a trinity of indie rock, heavy metal, and spoken word poetry. The project is currently based in New York City.
Nick Cocks
Nicholas Cocks is a Brooklyn based musician, sound designer and performer known for his work in Video Games, Web Series and Theater.
E.W. Harris
E.W. Harris is an alt-folk songwriter, producer, and artist based in Brooklyn, NY. A self-styled "Folktronicist'' and "Dystopian Romantic," Harris combines sonic textures, powerful vocals, and memorable melodies to create music he calls "folk tunes from an (im)possible future." Originally from post-industrial Akron, OH, his musical career flourished in the indie/art rock scene of Athens, GA in the late 1990's and early 2000's. Harris's reputation grew with his experimental approach to songwriting, recording, and genre. It is also at this time he began development on the Rocket City Universe, a post-apocalyptic AU in which all of his subsequent material is set. Upon relocating to Brooklyn, NY in 2009, his collaboration with Irish folk singer/songwriter Niall Connolly would lead Harris to focus more heavily on songwriting, to produce Connolly's first US record, release seven albums of his own, and tour heavily throughout the US and Europe.
Artists
Her Dark Heaven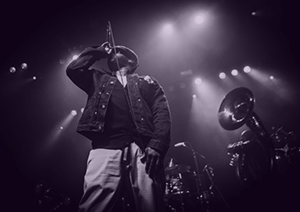 Nick Cocks