ZYkR
with Gigi Santos
Heaven Can Wait
Ages 21 and Up
Additional Info
Mae & Henry
A New York City based folk duo. With Mae on the fiddle and Henry on the guitar paired with vocal harmonies, the combination lends itself to a country/bluegrass sound that gets everyone involved and moving. They have played venues such as The Delancey, Connolly's, Brooklyn Music Kitchen, and O'Flanagans.
ZYkR
Led by Indian-American artist Aseem Suri, ZYkR is an industrial/electronic band currently based out of Brooklyn, NY. Their last 2 EP's 'Polymer' and 'NOIA' showcase the unique sound ZYkR is chasing - pushing the envelope between rock music and electronic sound design. Translating the same energy of experimentation live, ZYkR's sets usually involve the use of custom instruments to perform the unique blend of music they make.
Gigi Santos
Originally from Austin, Texas, Gigi Santos moved to NYC to pursue her music career. Gigi describes her sound to be a cross of Alina Baraz, Sabrina Claudio, and Sade, best categorized as Alternative R&B. With a background in chorus and music composition, Gigi is able to stack intricate harmonies over a textured production and vivid lyrics, creating a dreamy atmosphere for the listener. She released her debut EP "Sounds of Love" in November of 2019 and her most recent project "Mercury Ocean" with Brooklyn-based producer, Rodney Hazard in May of 2021. "Mercury Ocean" strays away from her usual jazzy R&B quality and moved into a "melodic trap" sound, showing just how versatile Gigi's style is.
Artists
ZYkR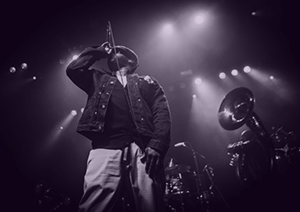 Gigi Santos