Payson Meistrich
with
Heaven Can Wait
Ages 21 and Up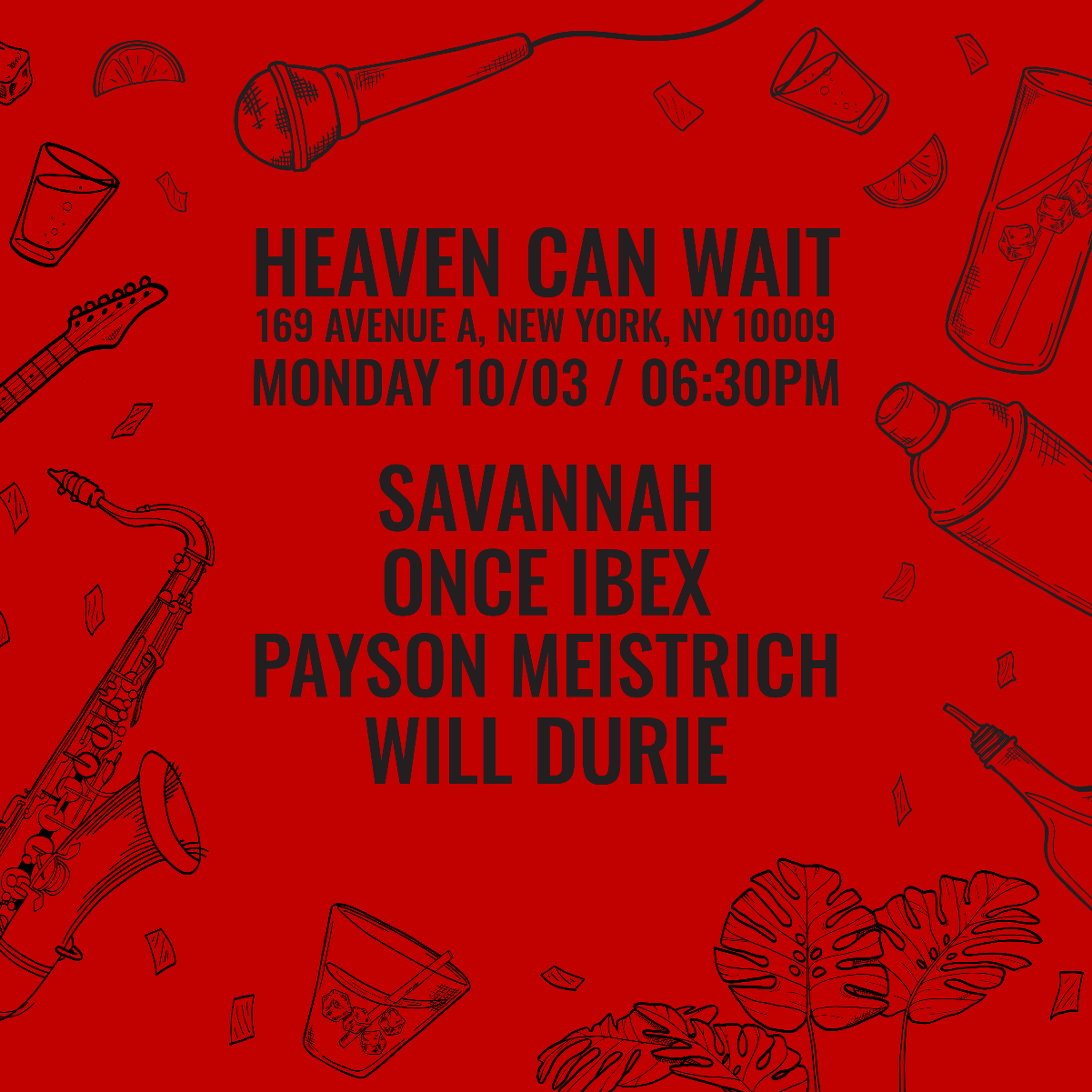 Additional Info
Savannah
Savannah is a 21 year old singer-songwriter based out of NYC. She was born and raised in rural North Carolina where she fell in love with pop sounds and folk-country story-telling. She came to New York to attend NYU and is pursuing a degree in Songwriting. She combines sonically infectious hooks with heart wrenching lyrics, because if you're going to be sad you might as well dance too!
Her debut EP, "Fair-Weather Lover" was released in April of 2022 and includes a fusion of Pop, Rock, and Folk sounds.
Payson Meistrich
A pop singer/songwriter based in New York City. She began her singing career when she was given the solo in her 3rd grade classmate's playground rendition of School of Rock, and was so addicted to the attention she got that she never stopped. Since then, she has been classically vocally trained, obtained a degree in music from George Washington University, garnered over 250,000 streams on her first single, Made Me Insane, and faced the crushing disappointment from her family that she did not choose to go to law school. Her greatest musical influences are Halsey, Taylor Swift, Billie Eilish, Ryn Weaver, and Stevie Nicks, mostly due to their impeccable songwriting, production and vocal talent, but also because there is nothing that brings her greater joy than women profiting off of their breakups. She is currently working and performing in New York, balancing recording her first EP and trying to find a reasonable apartment to live in-she's not sure which is harder.
Once Ibex
The Neo-Psychedelic Rock project from multi-instrumentalist Hunter Somogie. Featuring hit songs like Walking Man, and Abraham Lincoln, Once Ibex has officially released their first studio album, Live From Madison's Quail Garden. The album's quality remains consistent throughout, as marked by each fan favoring a different song than the last. Whether performing solo, or with a full band, Once Ibex will leave listeners with a musical experience that will reverberate long after the final applause.
Will Durie
Will Durie is a 21-year-old singer-songwriter from Hibbing, Minnesota, where he spends his summers. He is a rising junior at Columbia University in the City of New York where he spends most of the year. He has been playing piano since he was 5 years old and has since picked up guitar and songwriting. His main musical influences are Billy Joel, Elton John, Dire Straits, and Ed Sheeran. He is in the process of recording his first record, a singer-songwriter style collection of songs which he plans to release in the Fall of 2022. He recently won first place in the Duluth Dylan Fest Bob Dylan songwriting contest.
Artists
Payson Meistrich