Charlize Ramirez
with
Mon
September 12
@ 6:30 PM
Heaven Can Wait
Ages 21 and Up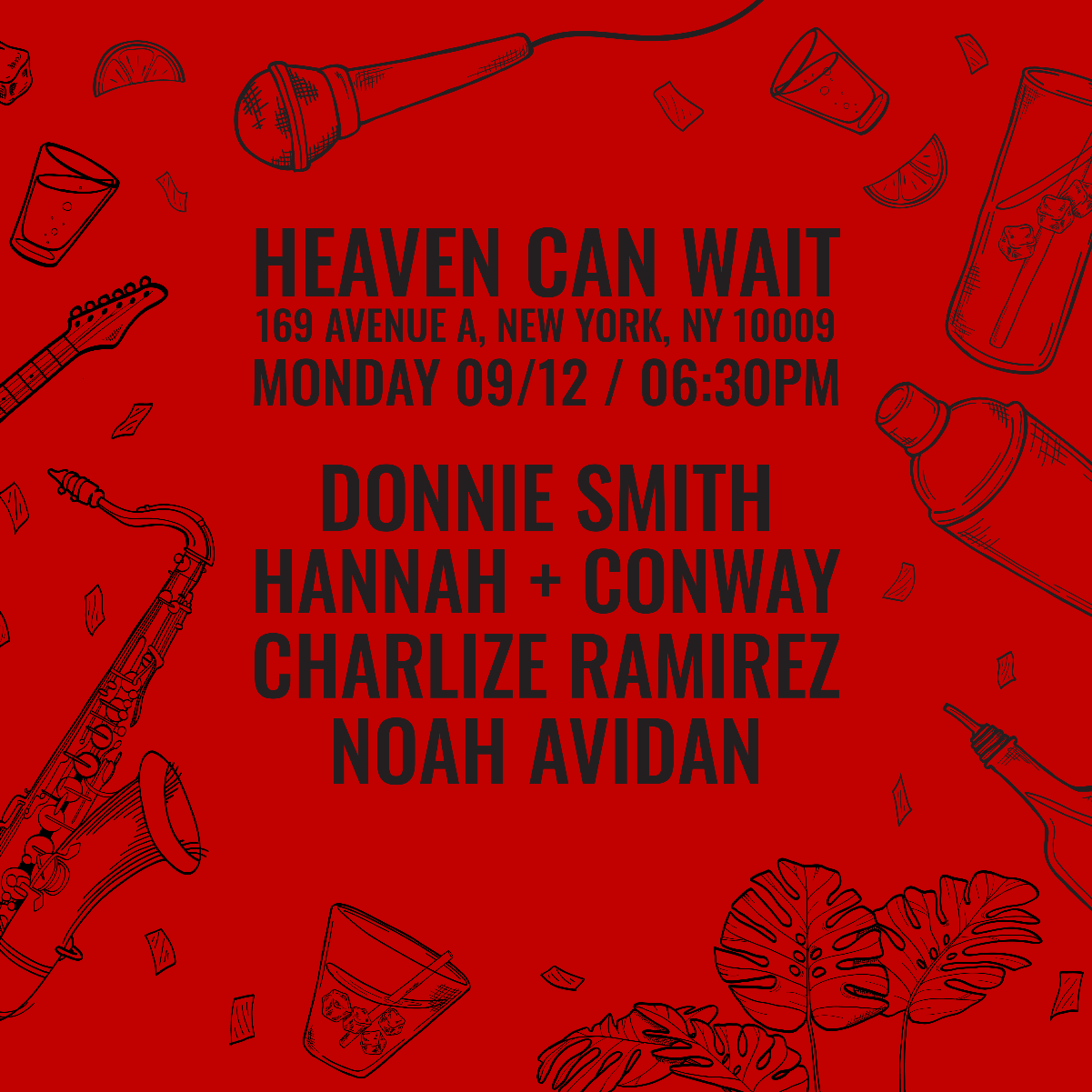 Additional Info
Donnie T Smith
Donnie T. Smith is a young adult born in Connecticut, raised in North Carolina, and currently based in NYC. Since he was a child Donnie has been using music as a form of expression, a form of therapy, and a way to manifest his dream reality. Through his music he plans to touch and help heal himself and others.
Hannah + Conway
Hannah Lynne Miller grew up in Oregon, and was raised on dirt and pinot noir. She moved to New York after college, and is an indie country singer-songwriter whose style straddles the line between pop and americana. Her songs draw on her own stories of love and loss, with easy vocals and catchy melodies that will have you singing along by the second chorus. Hannah takes inspiration from the Indigo Girls, Brandi Carlile, Gillian Welch and the Chicks. She is unbelievably lucky to share the stage with violinist extraordinaire, Nyssa Grant, whose bluegrass style and angelic voice weave in and out of Hannah's guitar and vocals with ease. You can find her debut album "June" on all streaming platforms, and keep an eye out for her upcoming EP "Live from Harlem," available July 29, 2022!
Charlize Ramirez
Charlize Ramirez is a Latin American singer-songwriter based in New York. She currently attends The New School for Jazz and Contemporary Music as a Jazz Vocalist. While growing up in New York, she found her love for music and began taking piano and vocal lessons at 9 years old. She performed in a variety of school musicals and choral competitions, like In the Heights, NYSSMA, and MCP at Carnegie Hall. She plans on releasing an original tune with her band this year called 4 A.M., so stay tuned!
Noah Avidan
Noah Avidan's music comes straight from his silly little brain and his big ole heart. It's is an amalgamation of his favorite genres—folk, rock, pop, country, musical theatre, and just about anything sung by a woman. He currently resides in NYC.
Artists
Charlize Ramirez