Echo Moth
with Pop Music Fever Dream
Mon
November 28
@ 6:30 PM
( Doors:

6:30 pm

)
Heaven Can Wait
Ages 21 and Up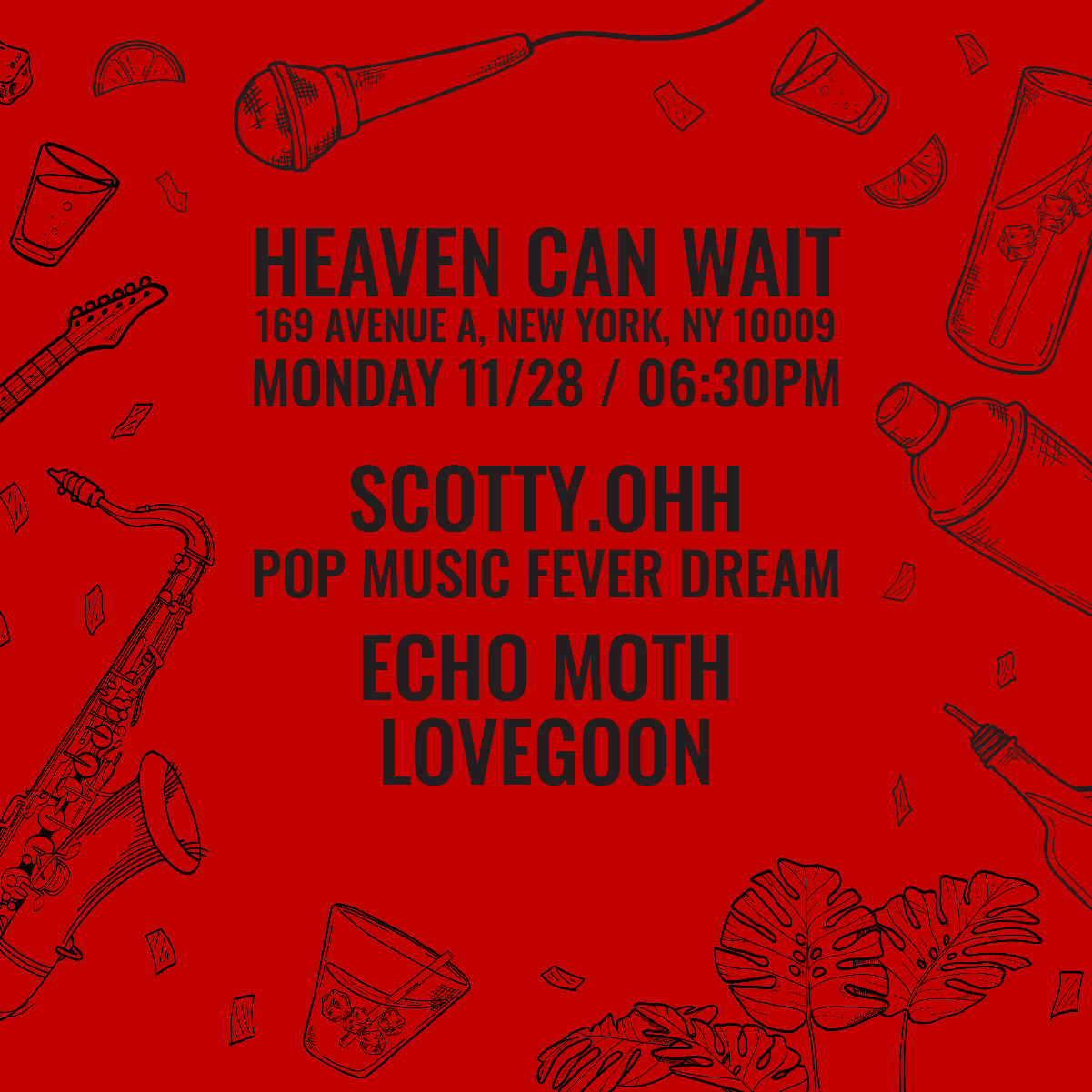 Additional Info
scotty.ohh
"scotty.ohh and the jojo" is the brainchild of Scotty Otten; originally based out of Seattle, Washington. He is a trumpeter, singer, and producer currently living in Brooklyn. His band plays a mix of synth pop, jazz-fusion, and experimental music drawing from influences such as Weather Report, Prince, and Peter Gabriel. He released a new song this month, "crazy frog" is an upbeat dance track with a blistering trumpet solo. The JOJO is tight, high energy group with vocals, electric guitars, synthesizers, electric bass, and drums. Members of the band are seasoned performers in the Brooklyn music scene, having played at the Sultan Room, Rubulad, and Pete's Candy Store in various indie and experimental bands.
Pop Music Fever Dream
Pop Music Fever Dream— it's like listening to pop music in a fever dream. How simple. It's scrappy, do-it-yourself, arty post-punk, making as much noise as possible that doesn't sound like shit. Maybe a solo. Just a lot of moshing and yelling and commentary on the internet. PMFD irl is Tim Seeberger (he/they), 25, hailing from Brooklyn.
Echo Moth
Echo Moth is the project of NYC based singer/songwriter and session guitarist Yana Davydova. Her songs are influenced by Victorian and Surrealist poetry, prog rock and dream pop with the elements of improvisation and noise. As an electric guitarist she is known for her ethereal rich textures and creative guitar work influenced by modern classical guitar repertoire as well as ambient/noise sounds, free improvisation and unorthodox guitar tunings. Yana often performs in a duet with Dmitry Ishenko who contributes ambient synth textures and complex beats or in a trio with a drummer. Echo Moth's new album recorded at BC Studio by Martin Bisi (Sonic Youth, Swans) is coming up in March, 2023.
Lovegoon
Lovegoon was formed in the summer of 2020 by Morgan Karabel on drums and Manuel Avila on guitar. The current format of the band is power rock trio often completed by Queue Robertson on bass. The music is characterized by strong riffs cocooned in a series of emotional soundscapes and harmonic textures.
Artists
Echo Moth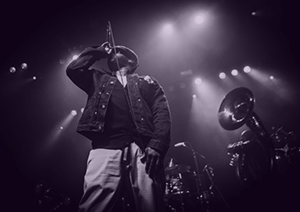 Pop Music Fever Dream