Pop Music Fever Dream
with
Heaven Can Wait
Ages 21 and Up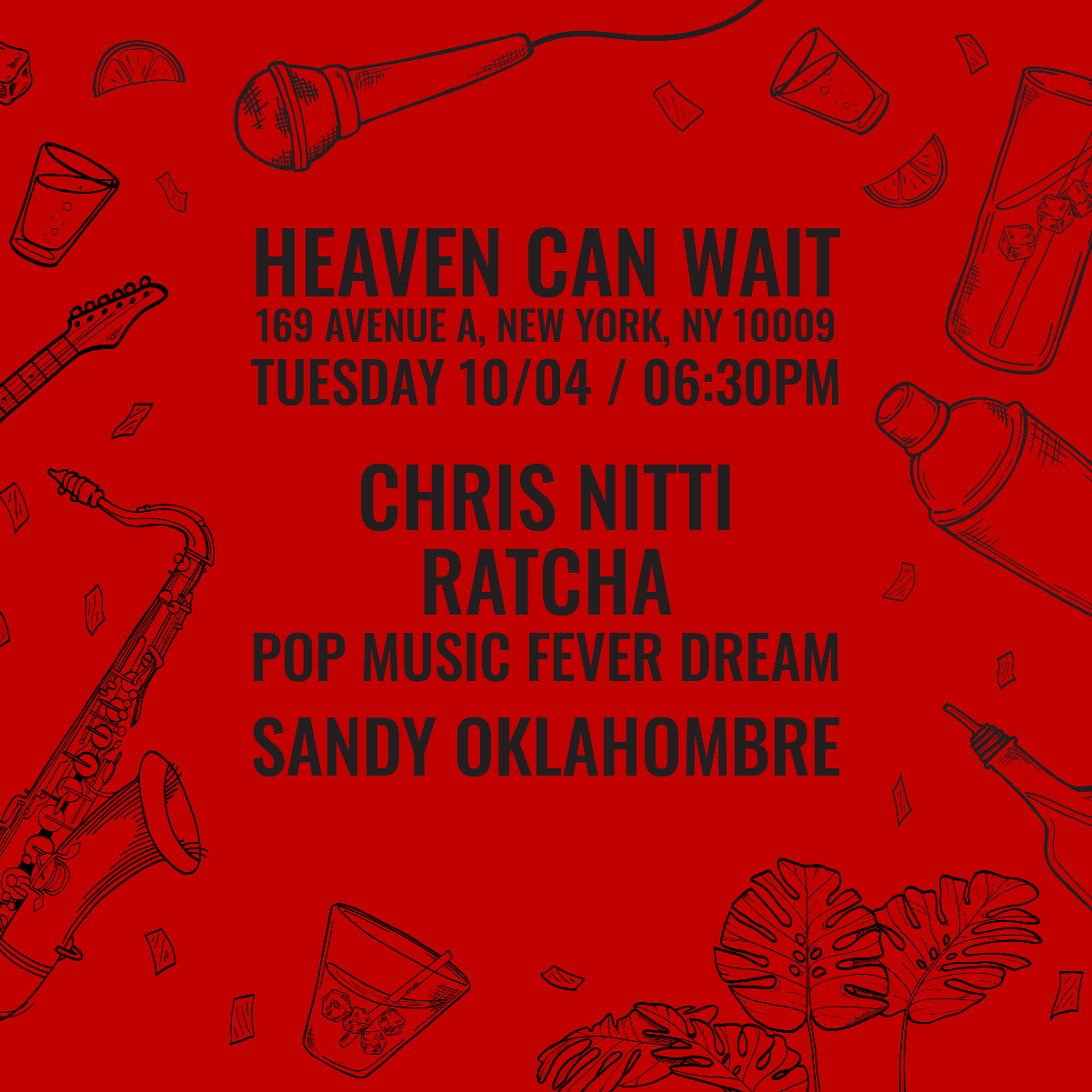 Additional Info
Chris Nitti
Based in New Jersey, Chris Nitti is a recording project that started in solitude in 2016. After learning guitar and a few other instruments, while getting into DIY artist such as Alex G and Mac DeMarco, Chris started writing his own songs out of curiosity and personal necessity. Since then, he's released an EP, 3 albums and a couple singles. While he started out doing everything himself, he's expanded to a more collaborative effort over the years, from giving mixing and mastering to others, to other instruments as well on his upcoming unreleased material. While his influences are ever-changing, Chris can always be expected to provide vulnerable and introspective lyrics over an indie rock foundation.
Ratcha
RATCHA members Cat, Phil, and Chad combine driving bass, vaporous vocals, euphoric guitars, and bombastic drums to create an immense, dense wall of sound. Formed in Summer 2021 in NYC, the trio's alchemy harkens back to 90's grunge and shoegazing music with a nod to modern day bass-heavy sonics, ushering in a bright new evolution of rock music altogether.
Pop Music Fever Dream
Pop Music Fever Dream— it's like listening to pop music in a fever dream. How simple. It's scrappy, do-it-yourself, arty post-punk, making as much noise as possible that doesn't sound like shit. Maybe a solo. Just a lot of moshing and yelling and commentary on the internet. PMFD irl is Tim Seeberger (he/they), 25, hailing from Brooklyn.
Sandy Oklahombre
Genre-bending trio based out of Brooklyn. Queen, Ramones, King Gizzard and the Lizard Wizard, The Ronettes, Mc5, Woody Guthrie, T.Rex, M. Vox/Guitar- Sandy (any pronoun), Bass/Vox- Jorge (he/him), Drums- Max (he/him).
Artists
Pop Music Fever Dream