CVMILLE
with
Thu
November 10
@ 6:30 PM
Heaven Can Wait
Ages 21 and Up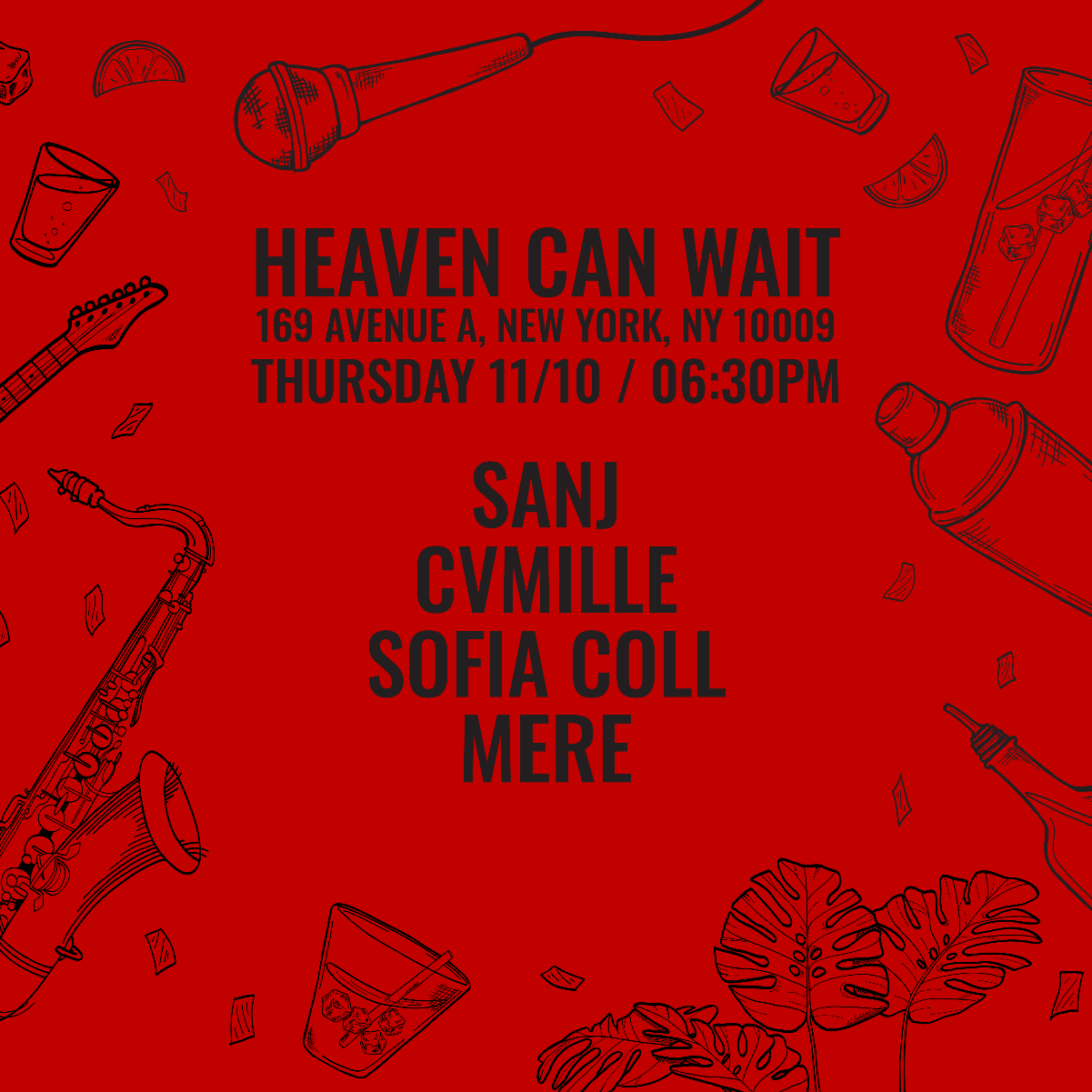 Additional Info
SANJ
SANJ is an NYC-based musician and creator from Chicago. Sanjana has two decades of experience and training in Carnatic music and mastered the violin in Chamber orchestras through her youth. SANJ's intentional sound mixes her silky Carnatic vocals with sultry R&B flows. She also creates arrangements of her favorite music blended with classic Indian songs on TikTok & Instagram (@xoxosanj), and is passionate about continuing to push forward a new genre that synergizes the two.

CVMILLE
Camille Aramburu, better known as CVMILLE, is a a singer & songwriter from Buenos Aires, Argentina, now living in Brooklyn, New York. CVMILLE is known for her unique bilingual lyrics and soulful sultry vocals and melodies that can accompany anyone in anyway.

Sofia Coll
Sofia Coll is a singer, performer and songwriter originally from Barcelona, Spain. Her music talks about personal growth and love. Her work is very theatrical exploring pop culture from all perspectives. R&b, soul, house, dance music, hip-hop, and her Spanish roots are also involved in the creative process. She started studying music at the very young age of 6. Her childhood and teenage years happened between school, music and musical theater school. At the age of 14 she debuted in the first edition of The Voice Kids Spain. In 2020 she released her first album "Génesis" which has over 1M streams. After the pandemic she released "Génesis: Alive". One-shot of a live performance; a medley of her album.
She is currently working on her sound and preparing her new project. She is now traveling the US working professionals from the industry in NYC, Miami and LA.

Mére
My name is Meré, I'm a Mexican-American musician and storyteller that writes about their cultural and spiritual experience. I'll take you on a journey of love, loss, and healing with my guitar yellow belly and my uninhibited vocals. I hope you feel the love I transmit.

Artists
CVMILLE