AUDG
with Moon Hound
Heaven Can Wait
Ages 21 and Up
Additional Info
AUDG
AUDG is a nonbinary human and a Brooklyn-based singer-songwriter. They came to New York for college as "Audrey", and after graduating and much enlightenment, AUDG emerged. Originally from the suburbs of Massachusetts, they've been writing and playing music since their early teens. Their songwriting centers around their relationships, queerness, and family bonds; and their musical inspirations are drawn from indie artists like Phoebe Bridgers, Bon Iver, and the like. They've conquered their self-doubt and are now finally putting their own music out there to be heard and loved, after a long, tumultuous relationship with posting covers on Instagram.
FOR FANS OF
Phoebe Bridgers, Bon Iver, Lucy Dacus, Clairo, Ben Howard, Feist, Soccer Mommy, Ingrid Michaelson, Sharon Van Etten.
Moon Hound
Moon Hound is pastoral indie rock from Ridgewood, NY. They feature singer-songwriter tendencies backed by lush arrangements.
Conor Callahan
Conor Callahan is a Brooklyn based musician focused on bringing lighthearted witty lyrics to a world of warbley compositions. He is influenced by the likes of Jonathan Richman, Lou Reed and Pavement, putting a new spin on the talk/sing, slightly monotone approach. Coming from an education in film his lyrics are strongest in their visuals and loose narratives. Conor has played on the NYC circuit since his college days in Carlsband. Since, his solo efforts continue with the same vision through a now more evolved songwriting.
Orly Bendavid & the Mona Dahls
Orly Bendavid has the soul of a poet and the heart of a warrior. Her songs often explore life's darker side, shining a light onto difficult emotional situations with unforgettable melodies and lyrics that combine humor and uncompromising honesty. Hope is a Traitor will be released on Bendavid's own label. The band is raising the money to finish the album with a Kickstarter campaign, the expected release date is Spring 2023. THE MONA DAHLS: Curtis J. Brewer, lead guitar and producer; Michael Talley, bass; Robin "Mitch" Mitchell, keyboards, Ariel Weissberger, drums and percussion and violinist Daniella Fischetti. The players all have long musical histories and bring elements of jazz, classical and world music to the arrangements.
Artists
AUDG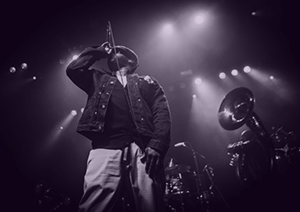 Moon Hound