Casey Urban
with
Tue
November 22
@ 6:30 PM
Heaven Can Wait
Ages 21 and Up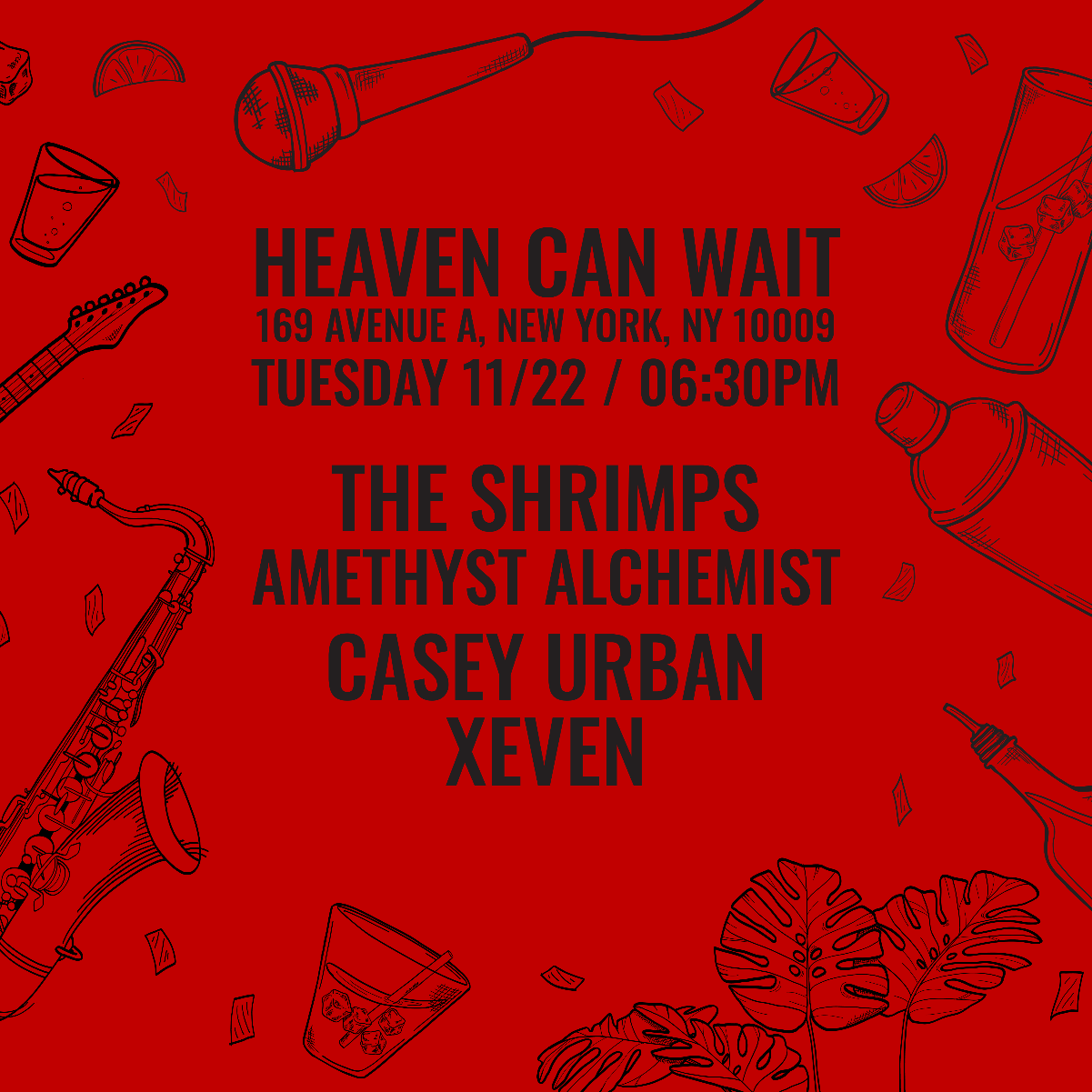 Additional Info
The Shrimps
Living in New York and citizens of the World, The SHRIMPS: These Anglo-American, multi-instrumentalist brothers write all the songs and sing them in genetic harmony, Channeling Lennon and McCartney through The Eagles, Bee Gees, Fleetwood Mac, The Clash, and Talking Heads.
amethyst alchemist
amethyst alchemist is a NYC based music project. our latest release, a film recording of our debut performance at the makers' space in brooklyn on 11/1/22 was released ten days later on november 11th. featuring original songs and 2 covers of both "space oddity" by david bowie and "back to black" by amy winehouse, our sound lives somewhere in the realm of shoegazy campfire songs. featuring jesse "juice" timm on lead guitar, judette elliston on keys/harmonies, max sundue on the drum kit, and myself on vocals/guitar round out the initial lineup with a mix of all of our backgrounds in everything from early jazz and folksy blues to the depths of punk rock.
Casey Urban
Casey Urban is a songwriter and pole artist. Pro pleasure in creation, sex and movement. Her work is a healing balm for decimated hearts. She combines original music and pole dancing to tell the stories of her most vulnerable wounds. Casey's sensitive approach to songwriting cracks open a door for folks; an opening to be seen.
Xeven
Xeven is an NYC-based alternative pop artist, electronic producer, singer-songwriter influenced by artists across many generations and genres. Her Music is intended to communicate emotion - whether simple or complex - it comes from her power in vulnerability. Her production is inspired by legendary trip hop acts Massive Attack, Portishead, Tricky; synthwave acts Depeche Mode, Kavinsky; modern-day producers like SG Lewis, Kaytranada, Ben Kahn to name a few. Xeven's songwriting is inspired by confessional and intense writing by the likes of David Bowie, Grace Jones, (John Anthony) Jack White, (Jillian Rose) BANKS, (Sevda Alizadeh) Sevdaliza. Due to much of Xeven's inspiration also being drawn from film, visual story-telling holds high importance in her self-expression. Aside from other responsibilities, Xeven creative directs her own music videos, making them an integral part of a complete experience.
Artists
Casey Urban