Scottish Fish
with
Sun
November 27
@ 6:30 PM
Heaven Can Wait
Ages 21 and Up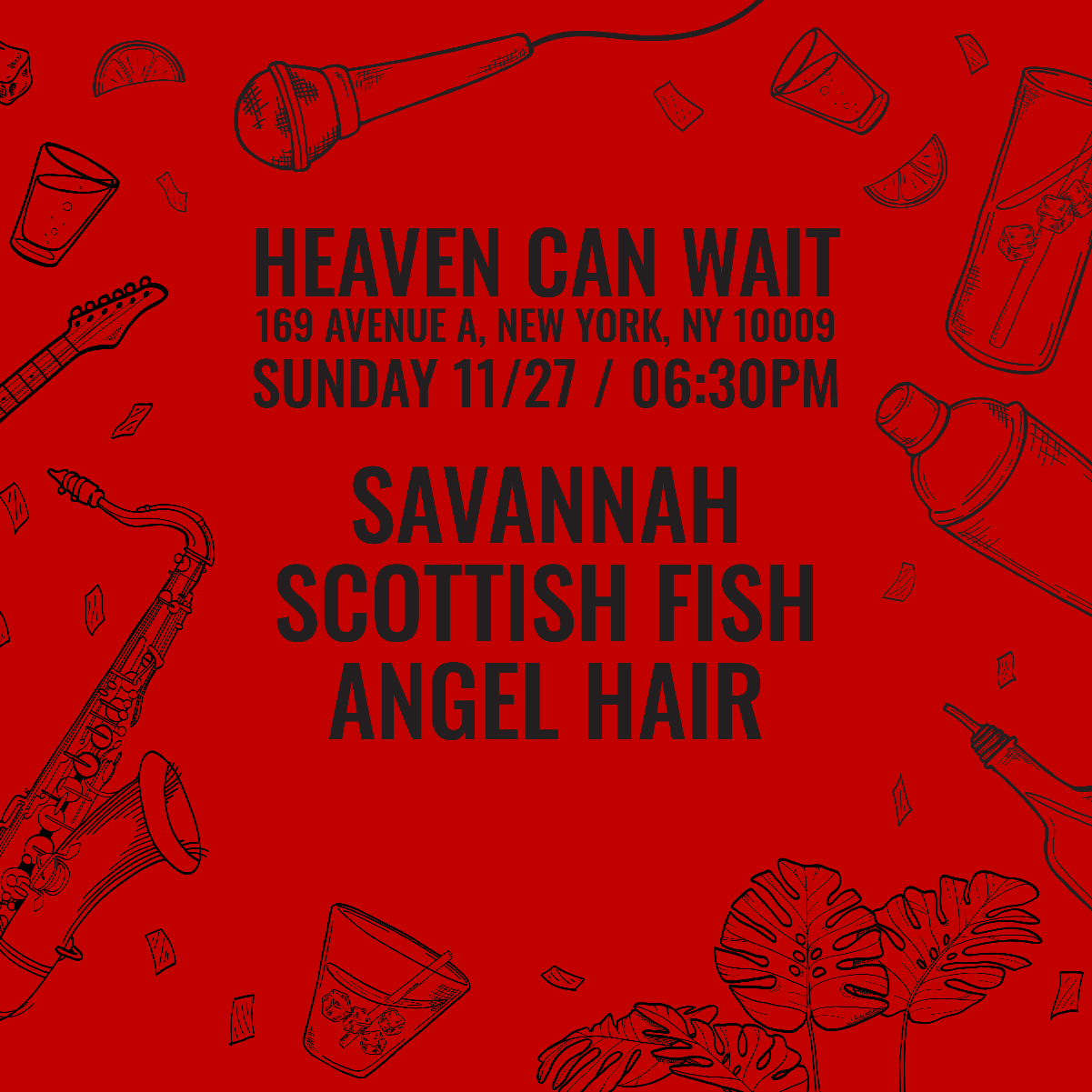 Additional Info
Savannah
Savannah is a 21 year old singer-songwriter based out of NYC. She was born and raised in rural North Carolina where she fell in love with pop sounds and folk-country story-telling. She came to New York to attend NYU and is pursuing a degree in Songwriting. She combines sonically infectious hooks with heart wrenching lyrics, because if you're going to be sad you might as well dance too!
Her debut EP, "Fair-Weather Lover" will be released this fall and includes a fusion of Pop, Rock, and Folk sounds.
Scottish Fish
Scottish Fish present a fresh take on traditional and contemporary Scottish and Cape Breton music. Their lively and unique arrangements are woven together from session music handed down from generations of the tradition's finest players. They have performed at the Boston Celtic Music Festival, Boston's Earthfest, Club Passim, and at various other public and private venues across New England. Throughout the years, the Fish have shared the stage with some of the stars of the Scottish fiddle world, including Hanneke Cassel, Katie McNally, and Bywater who have called them "our favorite celebrity teen fiddle band." Their music and performances have earned them features on WGBH and in American Girl Magazine, and attracted the attention of programs such as America's Got Talent. In 2017, the group released their debut album, "Splash," and followed it with "Tidings," a 5-track holiday EP, in 2019. Their newest record, "Upscale," produced by pianist and composer Neil Pearlman, will be released
Angel Hair
When Derek Royston and Zena Marie were falling in love, they spent the entire summer playing music to each other, sometimes trading instruments and sometimes pausing to cook for each other. They'd cook angel hair.
The next summer, they played their love songs in their backyard, The Wooden Cat, for their friends, and those friends' friends.
Then came Angel Hair. Zena's voice and Derek's guitar playing dance with each other making sweet, dreamy music sure to make you fall in love with the moment.
Artists
Scottish Fish