PYNKIE
with
Heaven Can Wait
Ages 21 and Up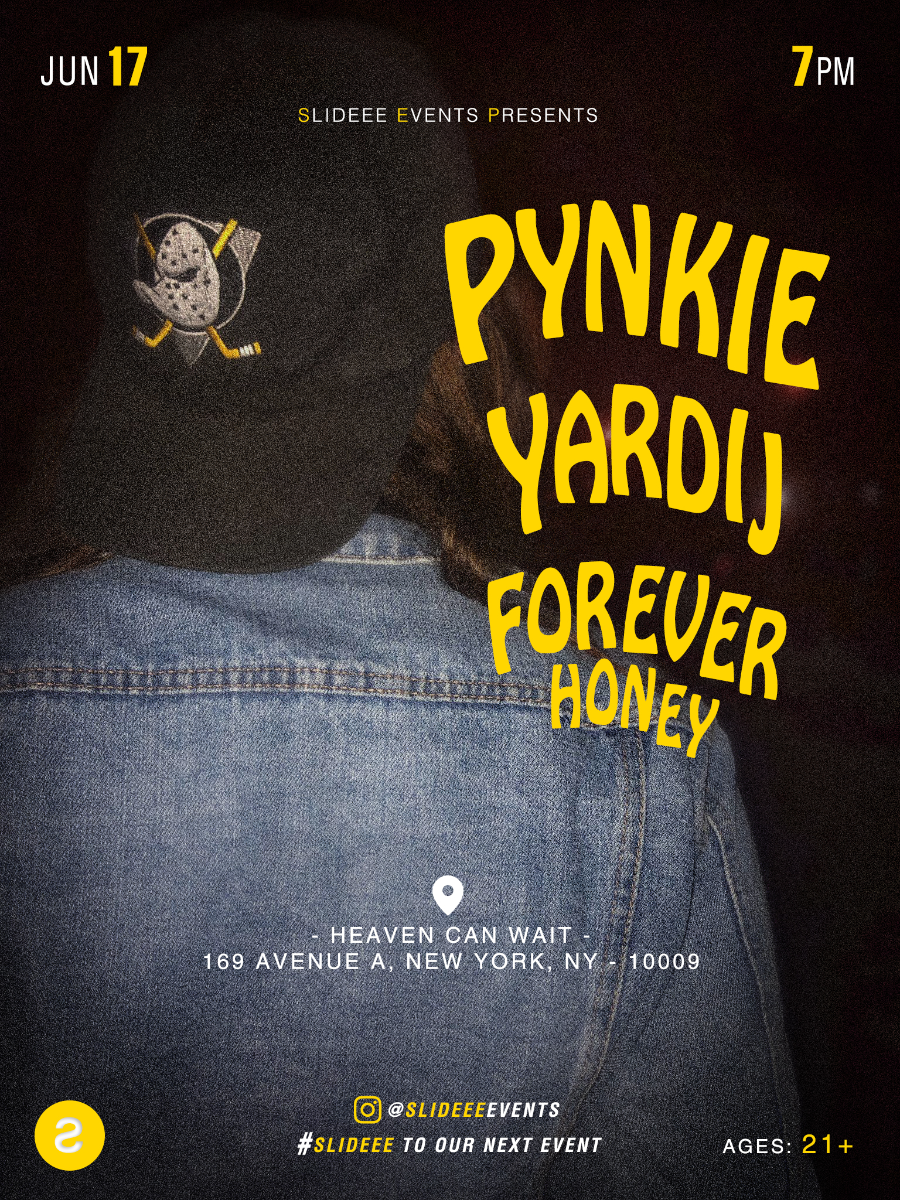 Additional Info
Pynkie
When Lindsey Radice isn't working 12 hour days as a nurse, she's writing music as PYNKIE — an indie rocker known for her signature starry-eyed sound. From March to June, Radice was on the front lines of the pandemic response in New Jersey while simultaneously working on her latest album "#37." The album is Radice's second as PYNKIE and is inspired by '90s alternative. Gearing up to play SXSW this March , Pynkie is even more excited to be playing NYC again this June! She has graced stages all over NYC at classic venues such as, The Bowery Electric, Pianos, Baby's All Right and even performed at New Colossal Festival in the Lower East Side. Check out Pynkie's latest record, "37" ,on all music streaming platforms now!
Yardij
Up and coming indie rock band, Yardij is flooding the future of the music industry, plain and simple. The band has a harder edge at times, but are centered around the powerful vocals of frontwoman Deja Elyze. The band has already founded their own festival, "All Out! Fest" in their hometown of Fort Lauderdale, as well as played Okeechobee Music Festival, Forecastle Music Festival, and the main stage of the Florida Music Festival, as well as an opening slot for Bon Jovi at the BB&T Center. There's plenty of potential for Yardij to keep moving forward, and arenas may be commonplace someday. Check out Yardij's latest record, "Face Value", on all music streaming platforms now!
Forever Honey
Forever Honey is a Brooklyn-based band composed of Liv Price (lead vocals, guitar), Aida Mekonnen (lead guitar, vocals), Steve Vannelli (drums, keys), and Jack McLoughlin (bass, production). Despite a challenging, virtual debut in spring of 2020, the 4-piece's EP "Pre-Mortem High" managed to garner the attention of indie tastemakers (e.g., NPR, American Songwriter, The Wild Honey Pie) for channeling "the clever, no-nonsense spirit of 90's brit pop and the jangly guitars of 80's new wave" (Tommy Johnson, Ghettoblaster.)
Forever Honey finally emerged in the live show circuit summer 2021, preceding the release of their latest song "Satellite" - one of two singles put out on Better Company Records. The music video for the second, "Number One Fan," is set to premiere on March 14th via Under the Radar.
Artists
PYNKIE