Vitoria
with
Fri
September 30
@ 6:30 PM
Heaven Can Wait
Ages 21 and Up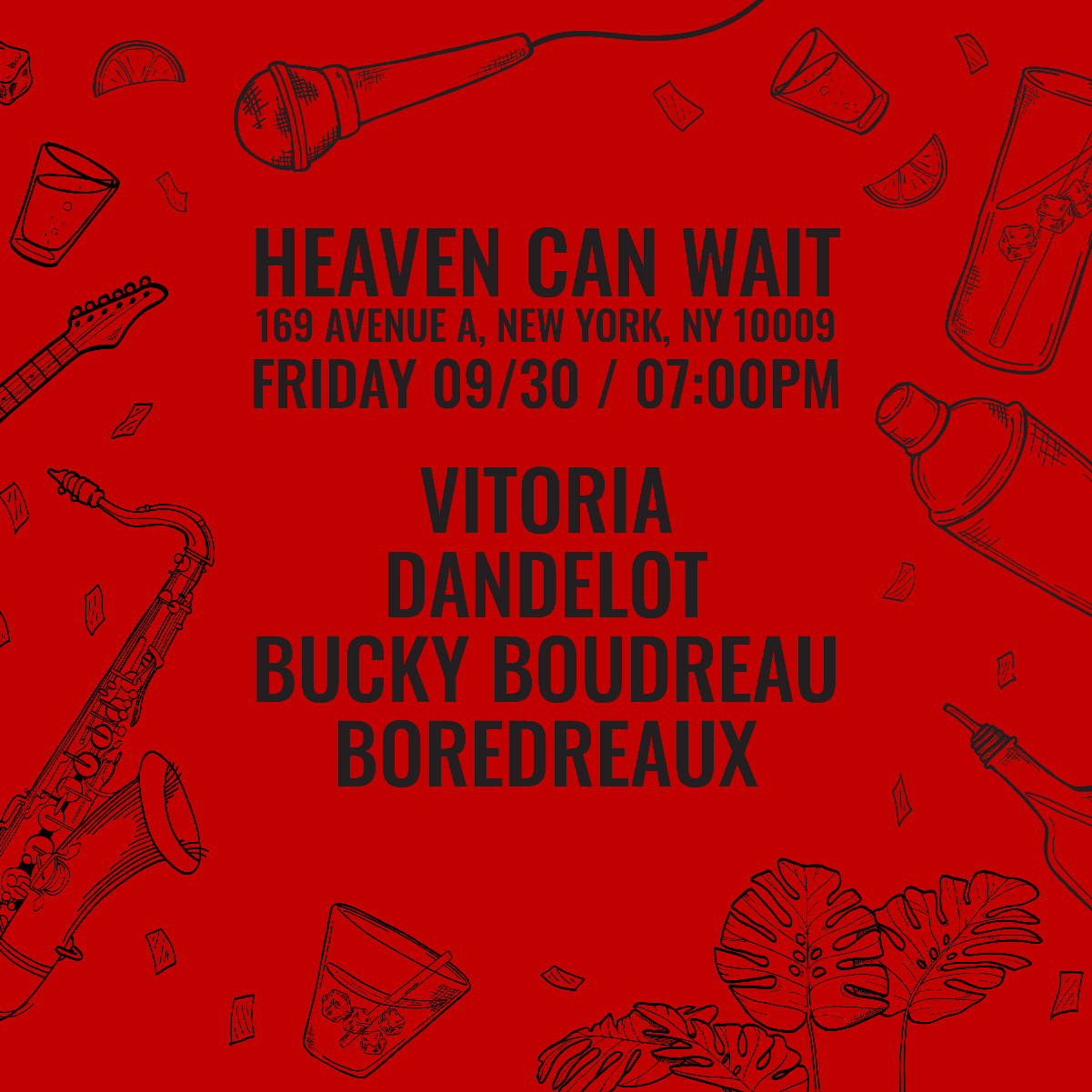 Additional Info
Vitoria
vitoria is a 23 year old indie-punk singer-songwriter currently based out of Brooklyn. vitoria moved to New York last month after living in New Orleans since 2019, where she wrote and recorded the majority of her current anthology. While living in the Big Easy through 2021, vitoria composed her first full-length album, 'DO NOT OVERCONSUME.' The album follows the suicide of an unremembered city man. vitoria has been inspired by the rock/punk community in New Orleans, mostly by her friends in The Painted Hands, Swarm Comp, gools, and Vanta Vega. vitoria's first EP from 2020, 'Borderline,' features intense drums and a sweet pop punk presence, one that she is xxxcited to take to the stage. vitoria is super stoked to play for y'all….but u didn't hear that from me….. Xxxxooxoxo

Dandelot
Dandelot is the musical project of Kevin Shoemaker, an emerging artist from Brooklyn, NY who draws heavily from a background in classical piano and composition. His solitary approach to music casts him as the songwriter, producer, performer, and mix engineer of all his tracks. Prior to working on Dandelot, Shoemaker first gained recognition as a pianist in New York City, being featured in the NY Post and WQXR, as well as working with various esteemed New York City institutions, such as Joffrey Ballet, Lincoln Center, The New School, Ballet Tech, and Mark Morris Dance Group. His solo work on Dandelot is a culmination of all these various sounds and styles. Drawing from aesthetic influences like Daft Punk and Kanye West as well as a firm foundation of classical music, Dandelot is a unique intersection of influences, styles, and tastes.

Bucky Boudreau​
Bucky Boudreau sings like a painter and paints like a singer. His debut album "Oh, Hi! Oh…" is a rumination on permanence: relationships that seemed gravely important at one point in time; blurry nights friends swore they would hold dear; trophies slowly gathering dust on mantles – these are the liminal spaces and moments that Bucky invites you to bear witness to. He lives in an apartment on an island and pays the rent pushing pixels. He's from your town, and hopes your family is doing well.
Boredreaux
Boredreaux is the solo project of Greater Boston-bred, New York based writer and performer TJ Boudreau. Mixing the morose musings of emo with addictive indie-rock melodies, Boudreau has been steadily building up a hefty catalog of songs over the last five years. A storyteller at heart, his songs are full of lonesome heartache, earth-shaking despair, and the absurd reality that is being a human being. Boudreau is working on two upcoming self-produced albums: Self Portrait and Landscape Orientation. The twin albums contain songs that range from close character studies, dissections of human relationships, and introverted, blunt self-examination. They will be released in the near future by Tall Bed Recordings, an imprint he founded with his brother Andrew "Bucky" Boudreau.
Artists
Vitoria