Maya Jayna
with Magali, A Cult
Tue
November 15
@ 6:30 PM
Heaven Can Wait
Ages 21 and Up
Additional Info
BeSomethingSoft and KA
Neither male or female but alien. besomethingsoft transcends time and space to create a reality of higher consciousness. In 2019, they broke out into the New York City art scene captivating audiences with their otherworldly performance art and music. At just 22 years of age, they have worked as a spiritual guide, activist, healer, actor(stage/screen), dancer, musician, writer, and director. As a Latinx nonbinary artist, they have infused the power and knowledge of their ancestors into their body of work using their dreams and intuition. They studied in the BFA Acting program for Film, Television, Voiceovers and Commercials at Pace School Of Performing Arts. Their work has been exhibited at Judson Church, Grace Exhibition Space, and The Living Gallery. They won of 5 awards at the 2021 Uruvatti International Film Festival for their film 'The Sixth Sun'. Their debut album Ascendant released on December 18th, 2020 and their 2nd album The Sixth Sun released on June 17th, 2022.
Magali, A Cult
Magali, A Cult is a sci-fi pop artist based in New York City. Originally from Brussels and Hong Kong, Magali brings this multiculturalism to her work as an amalgamation of genres and themes in her music. Having already released an EP (Singularity), a sound art album (Instructions), a pop album (V21) and multiple singles, Magali has clarified the range that the sci-fi pop sound encompasses. She continues to create music and performs regularly in NYC and internationally.
Maya Jayna
Maya Jayna is a singer/songwriter incorporating indie pop with Desi/eastern influences. The 20-year-old singer/songwriter had a very global upbringing. While currently living in NYC, she has lived in Amsterdam, New Delhi, and CT. Besides moving, growing up In an Indian-American family has also shaped her experiences. It's this multicultural upbringing that inspires her sounds and lyrics. Her first EP, "Madwomen," is a collection of three songs she wrote/arranged/produced/recorded/ and sung, all from a mic in her dad's basement. It's titled "Madwomen" cause she was crazy to do this project by herself, especially being a woman in the arts, a young person, and coming from an immigrant Desi family where a career in entertainment isn't expected. The songs touch upon these themes of identity, artistry, growing up, and being a woman, all while using eastern melodies and vocal harmonies.
Artists
Maya Jayna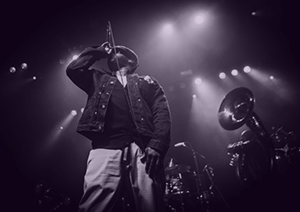 Magali, A Cult